All girls like to look pretty and highlight their beauty, so it is always necessary to have a balanced diet, stay hydrated and some makeup products; lift your lashes a little, blush your cheeks and feel like princesses. It doesn't matter if you are not an artist makeup, some tricks can make you adept at accentuating your attributes.
A simple tip It can save you hours and easily solve a problem. How many times have you not smeared your eyelids just when the shadows were flawless? Many or few, it is stressful to clean everything up and start again, but it doesn't have to be! There is a trick that helps you solve this dilemma and not only that, but others.
1. Your shadow palette is disappointing
Sometimes you buy new products and when they open they do not turn out as you expected. If you acquired some new shadows and they are dusty, they break and the pigment is very poor, do not worry, you can still save them. You will need to apply a cream shadow of white color before putting the shades you bought to make them jump and look brighter, but above all to fix them on your eyelid.
2. Your eyelashes are rebellious
If you've tried a different brand of spoon and choppers before, it might be time to try a thermal curling iron. It is special so as not to hurt your lashes and it is easier to leave them in place.
3. How to clean mascara stains
It is terrible when you stain your shadows by putting on mascara, when that happens wait for the paint to dry, take a swab, wipe it with patience; to finish, touch up the space that was erased.
4. Fade your imperfections
An excellent remedy to reduce the appearance of pimples and blackheads is to stay hydrated. Remember to drink water daily, avoid sugary drinks like sodas and packaged juices. The appearance and texture of your skin will improve markedly.
5. The ideal lip liner exists
If you want to give a thicker appearance to your lips, a good eyeliner will always be necessary. An excellent idea is to acquire a transparent and universal one to be able to apply it with any lipstick shade; In addition, it helps your lipstick to fade by fixing it better to your mouth.
6. Learn to identify your traits
To know what makeup you have and what not, it is good to know the types of features you have, the shape of your face, eyes, nose and lips, as well as what season you belong to according to the color of your skin, eyes and hair.. So you can find the types of colors and applications that highlight your natural beauty.
7. Do you have dry skin and is your base cracking?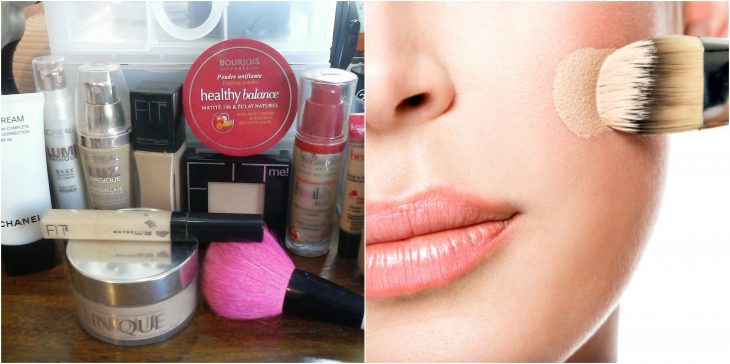 If your skin tends to dry frequently, you need to stay hydrated. You should look for a foundation whose formula is more moist and shiny. It must be fixed and very light, the product must be applied by gently pressing the skin to penetrate and hydrate.
8. The mirror trick
When putting on the eyeliner, go down and not from the front. Place a hand mirror a little lower than your face and paint yourself looking towards it, so your eyelashes will not interfere with your line as when you look straight ahead.
9. Add breadth
The height of the eyebrows stands out directly throughout the eye makeup. A more open angle without overdoing it will make your eyes look bigger and more awake. Apply white pencil or a light shadow under the eyebrows and mix well with the foundation.
10. Is your outline somewhat irregular?
If your eyeliner was a little cracked or imperfections, you can conceal with shadow that blends and gives a lush effect.
11. Other tip to avoid lumpy eyelashes
Just wait between mask applications; Let the first coat of paint sit on your lashes and give the second coat after it dries.
12. Use the same brush with two different colors
When you want to use the same brush for two different shades of shade, you must clean it beforehand to avoid contaminating the other color; cleaning sponges remove excess powder and lipstick without the need to wet your brushes.
13. Learn to highlight your eyes
Sometimes it is necessary to lengthen them; other times, shape them into almonds or make them look bigger. A shadow in the inner corner of the eyes opens them to look awake; highlight the eyebrow too.
14. The Spoon Trick
Avoid smearing your eyelashes with a mascara with a spoon that covers your eyelid against your lash line; apply mascara as usual.
15. Avoid the neck of another color
To choose a base that does not make you look like a vampire Twilight Not even a Japanese mask, choose your makeup base according to the coloration of your neck. Also try to lower your base to where it will appear, this avoids that hard line where it cuts the makeup.